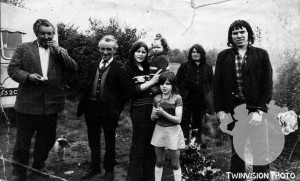 Twin Vision in collaboration with Merseyside's Irish Traveller community have created a resource, which celebrates and archives the traditions, heritage and culture of Irish Travellers. Moving Voices is the first resource of its kind, providing an insight into the lives of generations of Irish Travellers who have chosen Liverpool as their home. The project celebrates the rich cultural heritage of the Irish Traveller community encompassing traditions of living through a unique archive of films, animations, oral histories and photographs passing on the knowledge as a rite of passage for the next generation to continue their cultural heritage.
The Irish Traveller sites in Liverpool have changed over time, and, as occurred in many places after the Caravan Site Act was rescinded in 1994 members of the community were encouraged to move into bricks and mortar accommodation. The Moving Voices project reflects the heritage not only of the residents residing in Tara Park but also that of Irish Travellers living in tiled accommodation throughout Merseyside.
Twin Vision would like to thank all contributors who embraced this worthwhile project and shared their heritage through personal stories and photographs, that have so carefully been passed down from generation to generation and might otherwise have been lost – Delaney, Doran, Doyle, McCann, O'Driscoll, O'Hare, Purcell, Sheridan, Toohey and Ward Families.
Twin Vision would like to thank our funders Heritage Lottery Fund and Liverpool City Council, and our partners Irish Community Care Merseyside and National Museums Liverpool.
To obtain a copy of the audio transcripts or share your memories, thoughts and stories, please get in touch.